The Democratic challenger will officially be known on July 16, the last day of the Democratic convention.   It will likely be known months before this.   It will be held in Milwaukee, Wisconsin.  Donald Trump will officially be a candidate for the Republican party on August 27 in Charlotte, North Carolina.  Conventions are not where candidates are chosen anymore.  It is where the party celebrates their candidate,  And along the way,  others make some unflattering remarks ("lock her up") about the opposition candidate.   That's just the way it goes.
I'm certain Wisconsin and North Carolina (Democrat and Republican conventions) were chosen because they  are one of the 7 to 9 toss up states.  The 7 states with electoral votes (EV's) in parentheses are:   AZ  (11), FL (29),  MI (10), NC (15), NH (4), PA (20), WI (10).   I consider NH (4), ME (4) and NE (5) are "semi toss ups" because they permit the EV's to be split.   While every vote counts, I don't think these 3 states really are going to swing the election.    The 3 biggies (FL, NC and PA) are all on the east coast.
The best site so far on the prediction of the 2020 election is www.270towin.com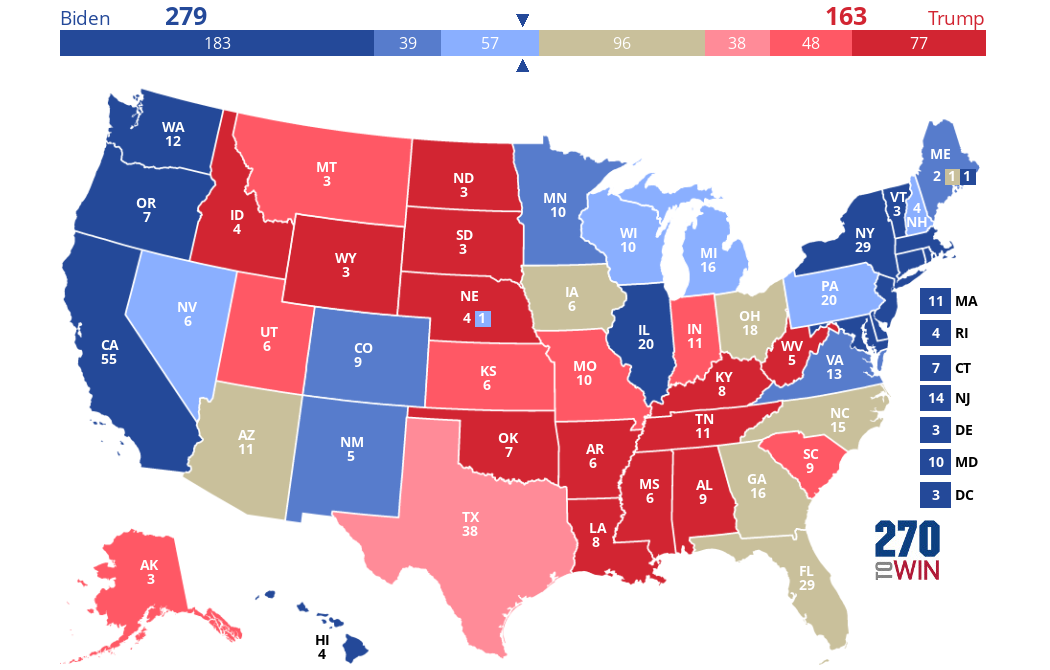 Click the map to create your own at
270toWin.com
Trump has a distinct advantage.  While the Democratic candidates focus on the primaries, Donald Trump will focus his campaign rallies on swing states.
Early Democratic primary battles in New Hampshire, South Carolina and Iowa may not be the best way to spend contributions.  The Democratic party needs to appeal to the sometimes voter, not that interested in the issues.  The month of March will greatly narrow the field.   Joe Biden is now out in front, and by March, he may have enough primary votes, for the other candidates to concede.  March 3 is Super Tuesday which ends primary voting in 14 states.  If none of the candidates have sufficient pledged candidates,   then it is a contested convention.  I don't see this happening, as the Democrats lose their chance to laud praise on one candidate.
The most informative  link on the primaries is from Wikipedia:
https://en.wikipedia.org/wiki/2020_Democratic_Party_presidential_primaries
Stay tuned,
Dave